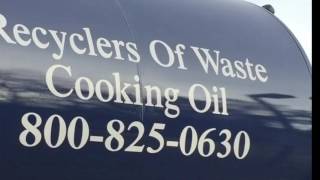 Call us today for free used cooking oil pickup (800) 825-0630
We are the oldest independent
used cooking oil collection
company in the New York and New Jersey area, servicing our customers for over 100 years! Through four generations, our family has offered efficient and reliable used vegetable oil collection for restaurants in Manhattan, Brooklyn, Queens, Staten Island and New Jersey.
We pride ourselves on our exceptional service: beginning with our friendly, responsive telephone staff…to our professional, uniformed and friendly drivers…to our clean fleet of blue and white trucks…we want every step of our relationship with you to be simple and easy.
We operate our own used cooking oil recycling facility, Planet Earth Biodiesel, where we process your used cooking oil to be used in many applications, including biodiesel.
"We serve our clients through integrity, consistent service, courtesy and hard work." Papa Luigi (1888-1961)
FAMILIARIZE YOURSELF WITH USED COOKING OIL DISPOSAL REGULATIONS AS MANDATED BY THE DEP.
TEL: 800 825-0630
TEL: 908 722-5900
FAX: 908 722-5901
301 Roycefield Road, Hillsborough, NJ 08844
BIC license #1903
Fryer Oil Disposal • Grease Disposal • Grease Recycling • Restaurant Oil Disposal • Commercial Kitchen Grease Removal • Disposal of Waste Oil • Used Fryer Oil • Cooking Oil Disposal • Cooking Oil Recycling • Cooking Oil Removal • Waste Cooking Oil Collection • Waste Oil Removal
We service clients all over New York City [Manhattan, Brooklyn, Queens, Staten Island] and New Jersey.